WP Calorie Calculator
Pro
The new extended version of the Calorie Calculator is the WordPress plugin your visitors will love.
Get Started
A step forward in promoting healthy lifestyle choices
Calculate daily calories with no effort and maximum personalization: getting users involved has never been so easy and so fun for everyone.
Entertaining
This plugin enlivens the user experience by entertaining: your visitors will be happy to spend more time on your website.
Supporting the Idea
Calorie Calculator will support the idea of healthy eating. The formulas we use in it have high probative value: experts all over the world trust them in daily calorie rate evaluation.
MailChimp Integration
Users will be glad to connect with you by using the Calorie Calculator, and Mailchimp integration will help you make the most of it.
One-click update
Update the Pro version directly from the admin dashboard – no need to download and install anything manually. When a new version is out, the update will take as much time as a click of a mouse does.
Get it
Fully customizable interface
You want the Calculator to fit in your WordPress site seamlessly? Now it's even easier than before. The new Calorie Calculator plugin comes fully customizable.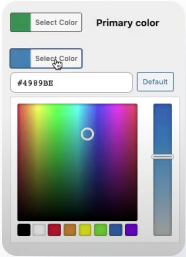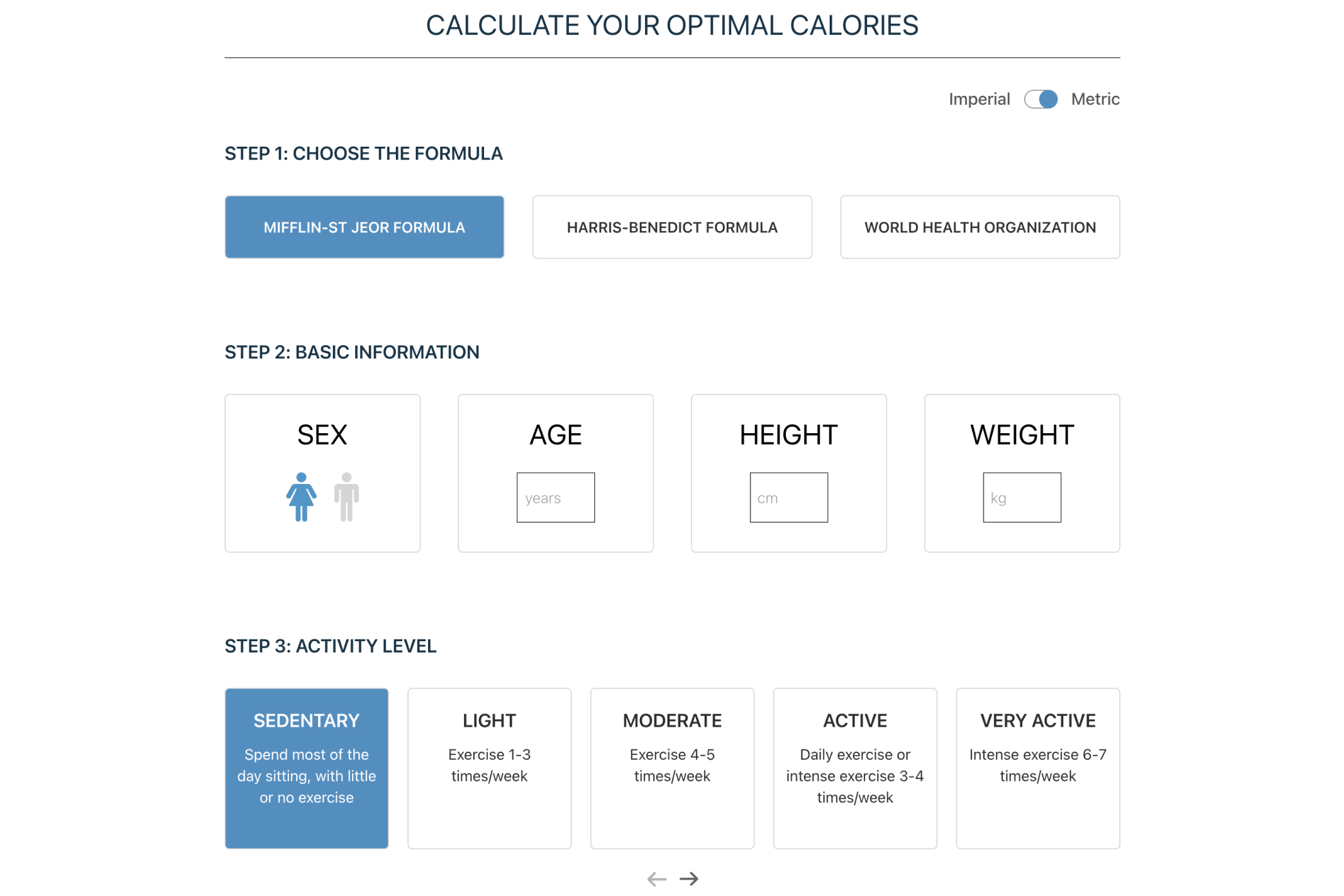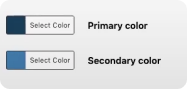 Benefits you get with Pro
The Pro edition offers endless customization capabilities and marketing tools to help you increase conversion.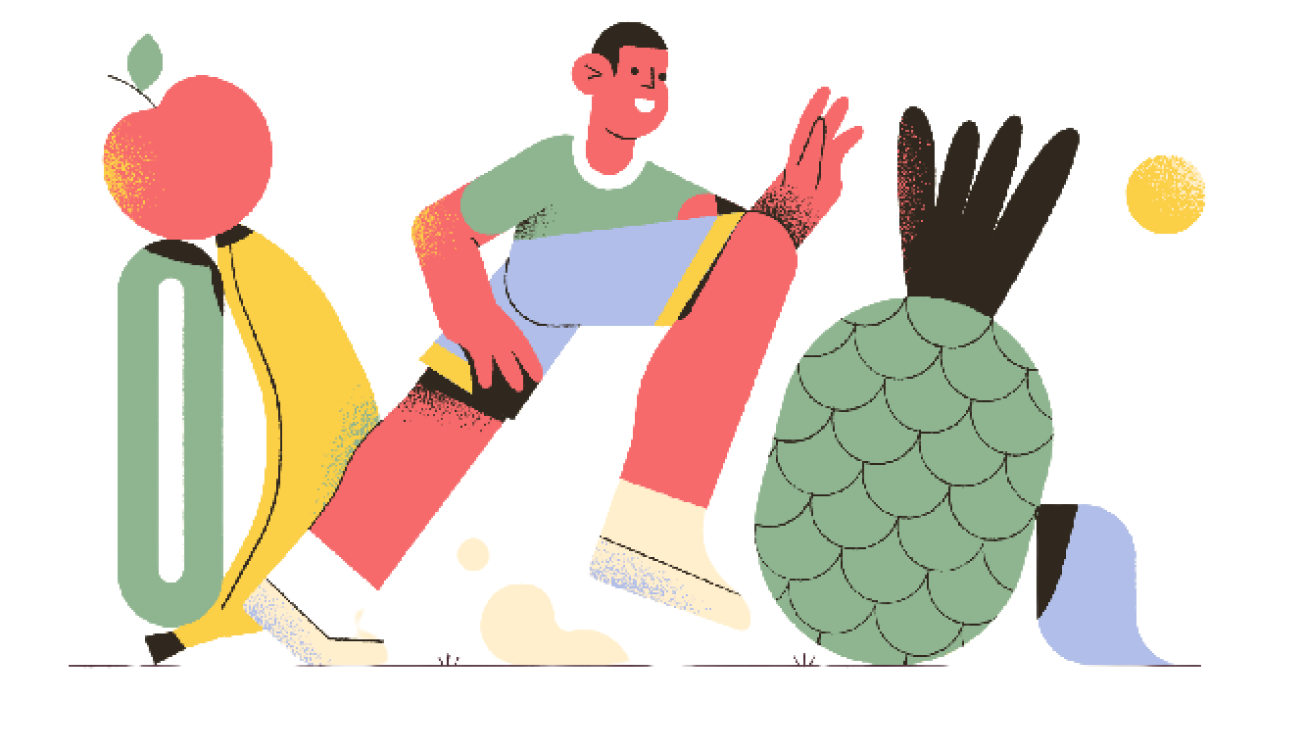 WP Calorie Calculator
Free
WP Calorie Calculator
Pro
Compact Settings page
One-click update from wp-admin
Changes apply without shortcode replacement
Instant/emailed results
BMI & BMR calculation
Macronutrient balance
Customizable labels
Customizable color schemes
User-end formula selection
Mailchimp integration
Add as Gutenberg block
User-configurable widget
Get Started
Adjust visual representation
Set the colors of the Calculator to fit it in your website's color palette. Consistency is crucial, and it's even more so when it comes to style. Use your brand colors, and the Calorie Calculator will assimilate with the website's interface perfectly. Move the blocks and swap their positions on the page. The input blocks can be arranged in any order you like: let your vision of the Calculator define the way it looks.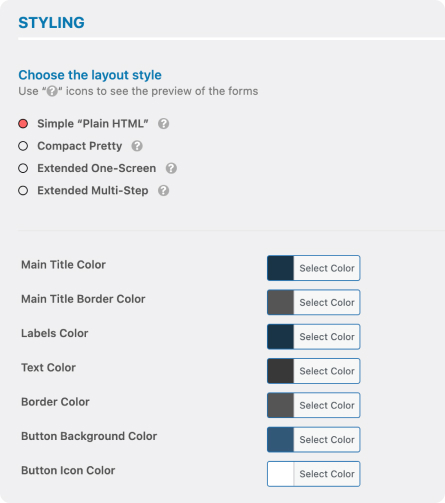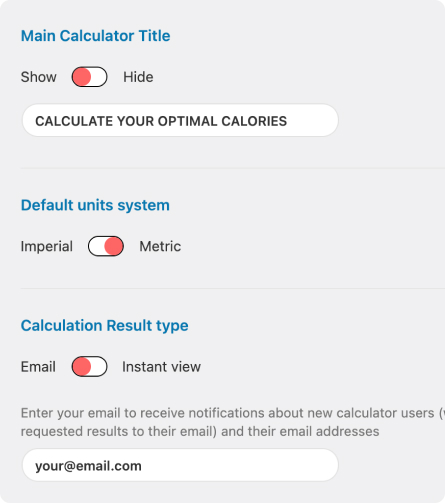 Modify tone and message
Let the Calorie Calculator speak your voice. In this version of the plugin, you can change not only the title, but block names and descriptions, too. Make them sound more cheerful or official and formal – the way your website does. Change the email text you send to your visitors. This message is what users will first associate with your company – let it represent you from the best perspective.
Choose the formulas
There are three options provided for selection: the Mifflin – St. Jeor, the Harris – Benedict and the WHO calorie rate formulas. All of the equations take into account every physical parameter that influences the daily calorie need. Users can set their age, gender, height, body mass and activity level to get the most precise results. Select the one you trust the most or let users decide.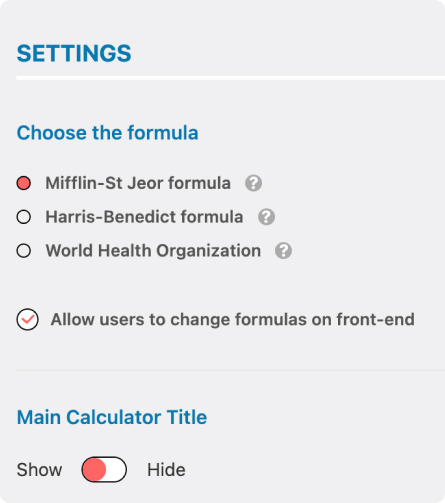 Convenient in every aspect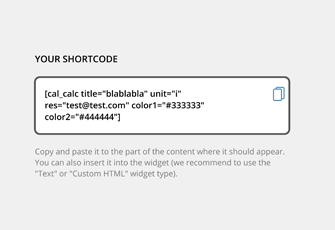 Add as shortcode
Once you've configured the Calculator to your taste, paste it on your page as a shortcode. It can be a widget or a separate page – whichever fits best.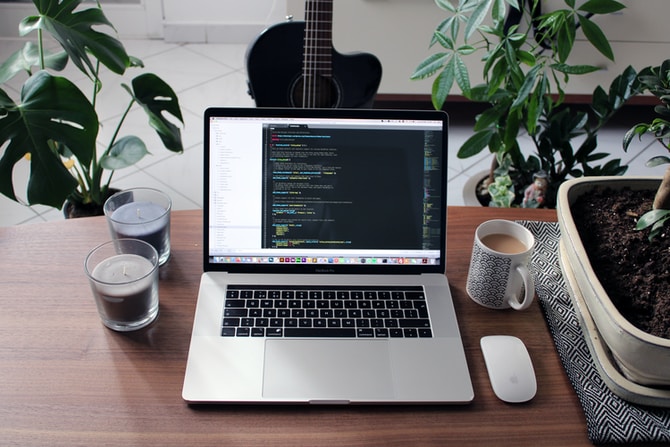 Mailchimp integration
This is the most efficient way to start your brand conversation. Since the plugin lets you collect user emails, this advantage must be put to use the best way possible. WP Calorie Calculator Pro and Mailchimp working together will work wonders with your PR & Marketing.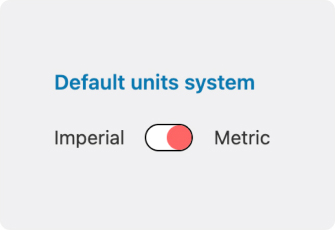 Unit conversion
In WP Calorie Calculator, both imperial and metric systems of measurement are available. This is especially valuable for global businesses. Your visitor will appreciate that unit conversion happens automatically as they toggle the preferred option.
Moving Forward, Looking Forward
The extensions and additions to WP Calorie Calculator Pro planned for 2021.
Your ideas can be here!
Let us know what you'd like to see next, and we'll put it on our to-do list.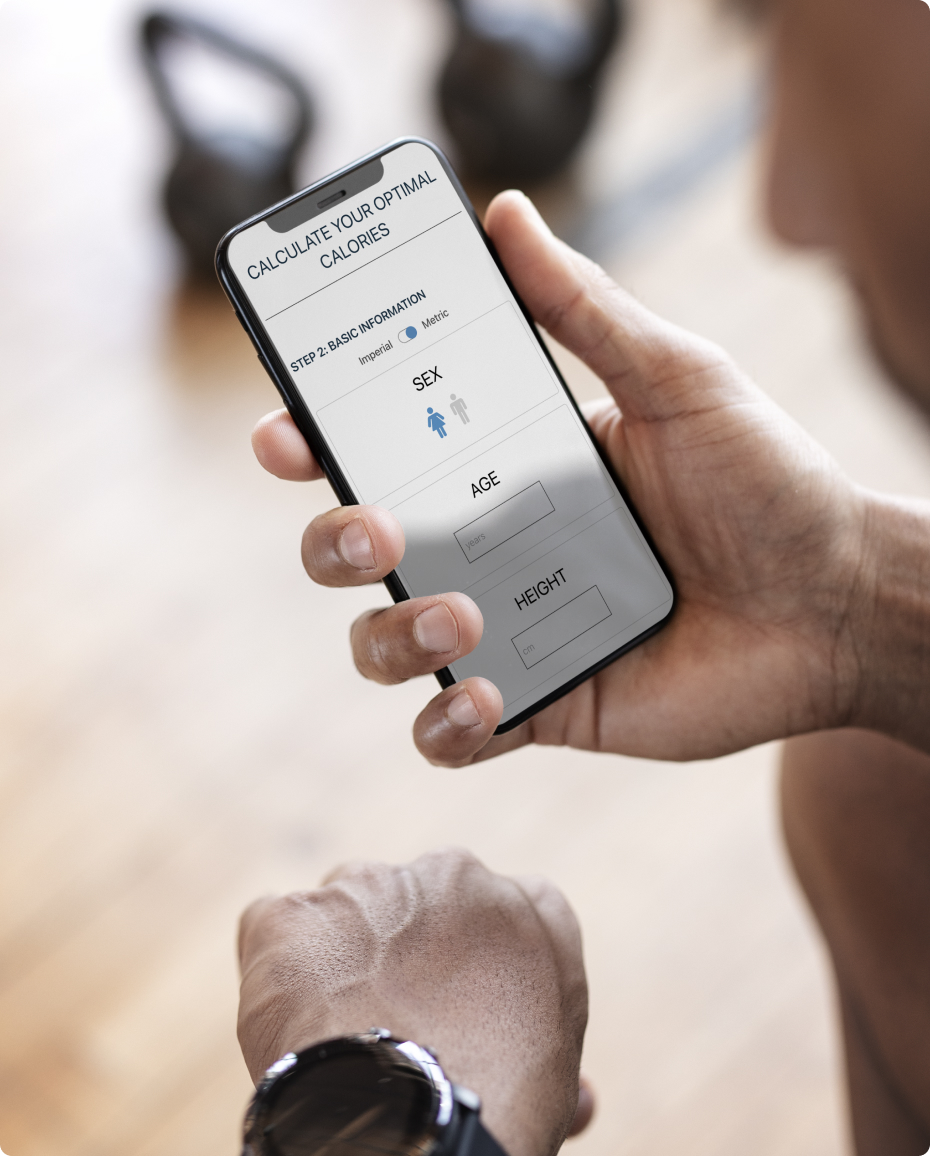 Your ideas can be here!
Let us know what you'd like to see next, and we'll put it on our to-do list.
WP Calorie Calculator
Pro

is the right choice for your website if your business is:
In Health, Sport, Fitness & Wellness, Nutrition or Sustainable Living
For customers with a healthy lifestyle mindset
Aimed at promoting healthy dieting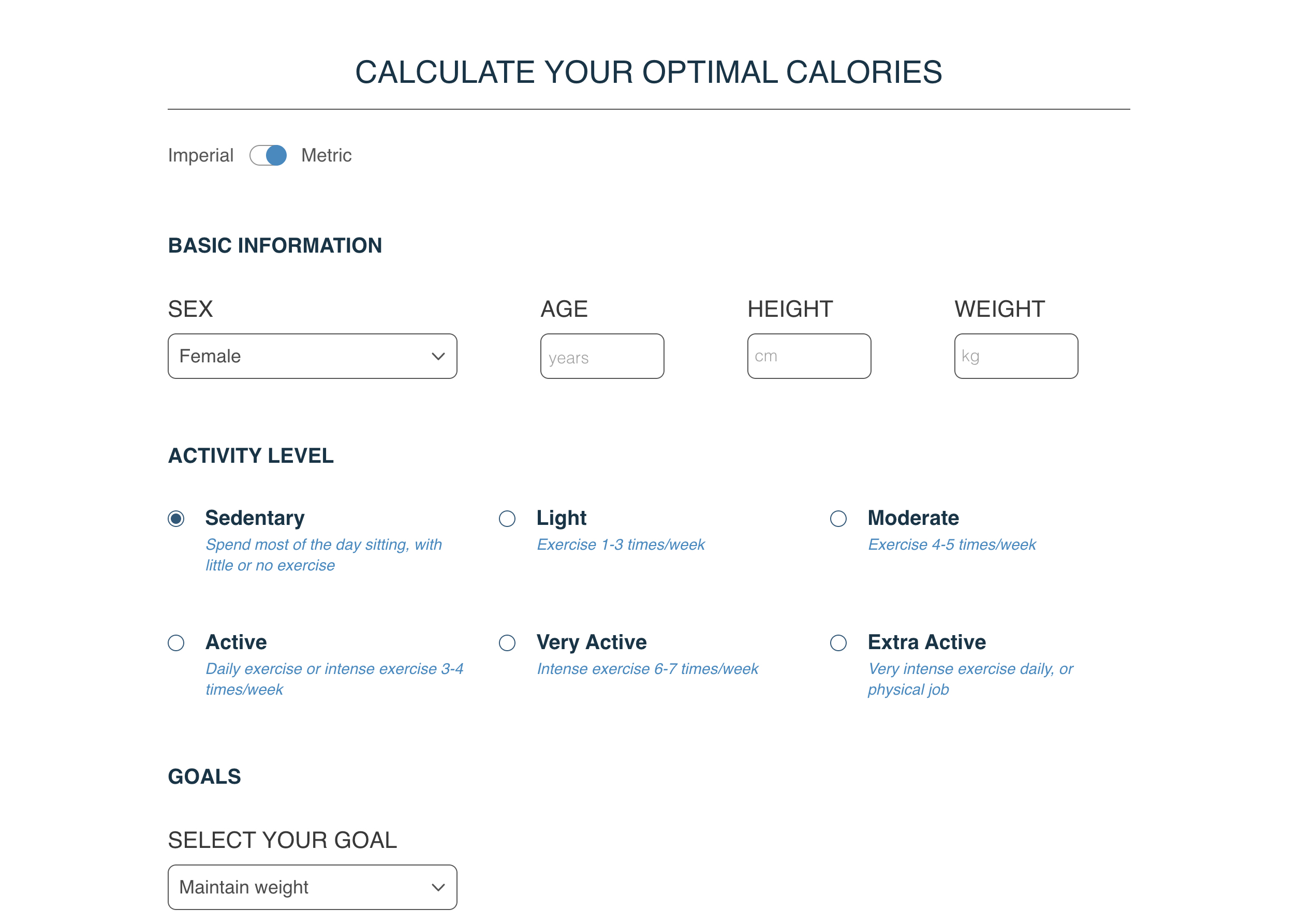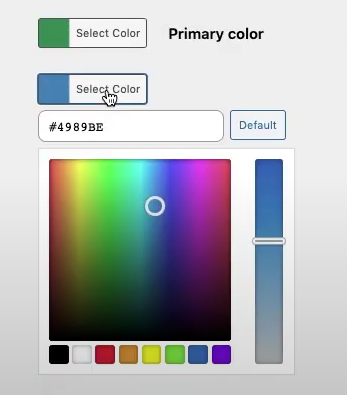 Fulfill the crucial needs of your business
Aiding the healthy diet promotion mission, WP Calorie Calculator Pro brings you closer with your visitors and increases their satisfaction from using your website. Make this plugin a lead-in before offering a nutritionist consultation. Use it to increase screentime. Fatten up your customer email database. WP Calorie Calculator Pro serves multiple purposes – all for your WordPress site to bring even more profit.
Get Started